Welcome to Boyd Acres Neighborhood!
In Bend Oregon
Welcome to our neighborhood. Boyd Acres is one of 13 areas defined and funded by the City of Bend. Boyd Acres Neighborhood Association (BANA) is NOT a Homeowners Association (HOA). Neighborhood Associations are mechanisms for communication between residents and the City Council. Each association has a representative on the Neighborhood Leadership Alliance, an official city committee.

BANA's boundaries are Hamby Road on the east and the Deschutes River to the west. The southern boundary is defined by Mt Washington Dr., the North Unit Irrigation Canal and Butler Market Rd. The north boundary is north of Cooley Road.
Bend is an incorporated city in Deschutes County, one of three counties that are often referred to as Central Oregon. Whether you are a prospective resident, visitor, a new or longtime resident, these pages and links will direct you to more information that will help you enjoy and deal with all the neighborhood has to offer.
Our neighborhood is named for Charles William Boyd, the iconic pioneer, who came to Central Oregon in 1904, drawn by the potential to grow his cattle business. He purchased six acres by the Deschutes River with prospects for a water wheel and dam. A year later his family joined him and eventually his holdings grew to 600 acres supplying beef across the region. The area became know for its ranching and timber industries.
BANA welcomes newcomers and long time residents to participate in our activities and meetings. See Get Involved.
Events
Apr 30th,2019 ~ Apr 20th,2019
Construction of the new roundabout at Empire and Purcell will begin Monday, June 17. Detours will be signed to provide access around the road closures. Expect some delays.
May 1st,2019
City Council work session will include consideration of exemptions for new sidewalks. Council Chambers in City Hall.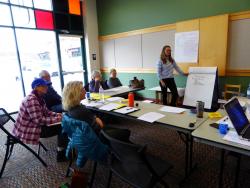 May 11th,2019
The Bend Neighborhood Round Table (NART) will meet May 11 at OSU Cascades to learn about the Fire Wise program, a plan for preventing wild fire from spreading in residential areas.